A philanthropist, dentist and a mother who loves to travel and explore different cultures of the world. While Dr. Samidhaa loves capturing some beautiful moments through the camera lens, she is also a fitness enthusiast and marathon runner.
Her dream to create The Team Dental began after her graduation.
On achieving BDS, she progressed to achieve 'Fellowship in Aesthetic Dentistry (FAD)' from Greifswald, Germany.
Also contributes as
A life member of 'India Academy of Aesthetic & Cosmetic Dentistry (IAACD)'
And life member of 'Indian Society of Oral Implantologist (ISOI)'
A certified flex align provider, Dr. Samidhaa has 10 years of experience in dentistry with special expertise in cosmetic dentistry and smile makeovers with digital dentistry, she has recently completed her training in Injection moulding composites, the bioclear concept.
Dr. Samidhaa has also been honoured with the privilege to conduct various conferences in the field of medical and dental tourism in India, UK and Africa. She founded the 1st Maharashtra Health and Wellness Tourism Conference (MHWTC).
A thorough expert who believes in perfection and progresses to serve with perfection. That's exactly why the team has given her the title of 'The Team Genius'.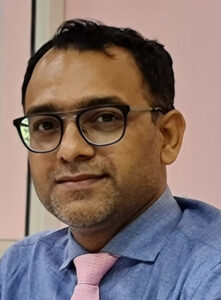 A specialist in orthodontics from all india institute of medical sciences, (AIIMS), New Delhi with over 10 years of experience in treating all kinds of teeth and jaw misalignment with finesse and expertise.
A thorough professional, Dr. Dongre has many national and international publications to his name and is always involved in providing knowledge to his junior dentist who look up to him for advice during complex cases.
Our Team Orthodontist, Dr. Shailesh Dongre also works as an associate professor in a renowned dental institute.
He has constantly endeavored to update his skill sets and knowledge related to his specialty by attending numerous continuing education programs all over the world.
With a vision to offer the latest and the best way of orthodontic treatment in the comprehensive dental care for patients, but always with a patient centric gentle and caring attitude. We are proud to have him as a pillar of The Team Dental.
Now you know who will take care of you if your unhappy with the way your teeth look or are causing hinderance in speech or health.
Graduated with honors from Sharad Pawar Dental College, Wardha and post graduated from BBDCODS, Lucknow.
During his residency, Dr. Chitrang Kolawale researched on topics related to surgical endodontics. We are proud to say, Dr. Kolawale has lectured and presented posters both nationally and internationally on various dental topics.
Also a member of Indian Association of Conservative Dentistry and Endodontics (IACDE) as well as Indian Dental Association, Dr. Chitrang practices all disciplines of dentistry with a focus on conservative dentistry and endodontics and has built two thriving practices in Pune since 2014.
This all-rounder also consults various dental clinics in and around Pune city and is skilled in single visit root canal therapy.
He has worked very hard to develop a soft touch and make root canal procedure as comfortable as possible. Dr. Chitrang loves working with adults as well as children and truly believes that a beautiful smile can change a person's life forever.
An M.D.S in conservative dentistry and endodontics from D.Y.Patil Dental College, Pune. Dr. Ankita Nagrani completed her B.D.S from Bharati Vidyapeeth Dental College and Hospital, Pune.
She is also a consulting endodontist and cosmetic dentist at some of the most renowned Hospitals.
Dr. Nagrani is a passionate root canal specialist who is always glad to deliver the best to the patient and we at The Team Dental are happy that she is part of our team to provide the best in dental treatments.
Often referred to as one of the best dental specialists in Pune, Dr. Patil completed his MDS – prosthodontics and dental implantology in 2013 from Rajiv Gandhi University of Health Sciences after his graduation from Maharashtra University of Health Sciences in 2008. Immediately after completing his education Dr. Patil started practicing dentistry.
Since then there is no stopping this dental ace as he worked at Yogita Dental College as an assistant professor for one year. His passion to practice and provide better sophisticated dentistry led him to Pune where he started his journey towards excellence.
Also a member of Indian Dental Association, Indian Prosthodontic Society and Indian Society of Oral Implantologist, Pune Prosthodontics Society, LCCIA.
Dr. Patil is also a practitioner of bodyweight exercises and calisthenics because of his passion and enthusiasm for fitness.
After completing his graduation from the prestigious Government Dental College & Hospital, (GDC&H) Mumbai, Dr. Shinde is one of the very few to pursue and complete masters in prosthodontics, restorative & implant dentistry from College of Dental Sciences, Davangere, Karnataka. With an intensive experience as senior resident in Department of Oral Health Sciences of Post Graduate Institute of Medical Education & Research, (PGIMER) Chandigarh.
Our team prothodontist joins us with some field leading skillsets and research.
While Dr Bhushan is a skillful implantologist & artistic dentist, he has always displayed a passion for the biologic nature of dentistry. He takes an inter-disciplinary approach to dentistry and understands that it takes a team of many skilled professionals to restore a patient to sound mouth and body.
Oral and Maxillofacial Surgeon
With an experience of over 10 years, Dr. Bhosale is a champion when it comes to any kind of surgery.
He specialises in
Oral surgery
Dental implants

Orthognathic oncosurgery

Maxillofacial trauma

In the decade of gaining experience and being a favourite among patients of all ages, Dr. Bhosale has had the privilege of working on all kinds of cases at various public hospitals and private clinics.
Many presentations and research publications hold the value of his contributions in the field of dentistry.
Oral and Maxillofacial Surgeon
His expertise in Implants is inspiring. With great experience this Pune based veteran oral surgeon considers implants as his ultimate favorite treatment to perform.
Holds an impressive track record and experience of placing multiple implants for several patients in and outside Pune.
Periodontist​ and Implantologist
Periodontist of The Team Dental is a very focused and hard working dentist. Dr. Kajale has achieved his masters in periodontics from Bapuji Dental College, Davangere. Beyond his masters degree, he was associated with D. Y. Patil Dental School, Lohegaon as an assistant professor for 5 years.
As a periodontist, his main focus is on management of deficient bone and soft tissue conditions in the field of periodontology and implantology. Dr. Kajale's expertise also adds another feather to his hat as he has undergone advanced training in guided implant surgery from the DIO Digital Academy, Busan, Korea and keeps attending various continuing education courses to update his knowledge. Currently, we are proud to have a consultant who helps many private practices in Pune and in Mumbai in our team.